Schuylkill County Municipal Authority
Board of Directors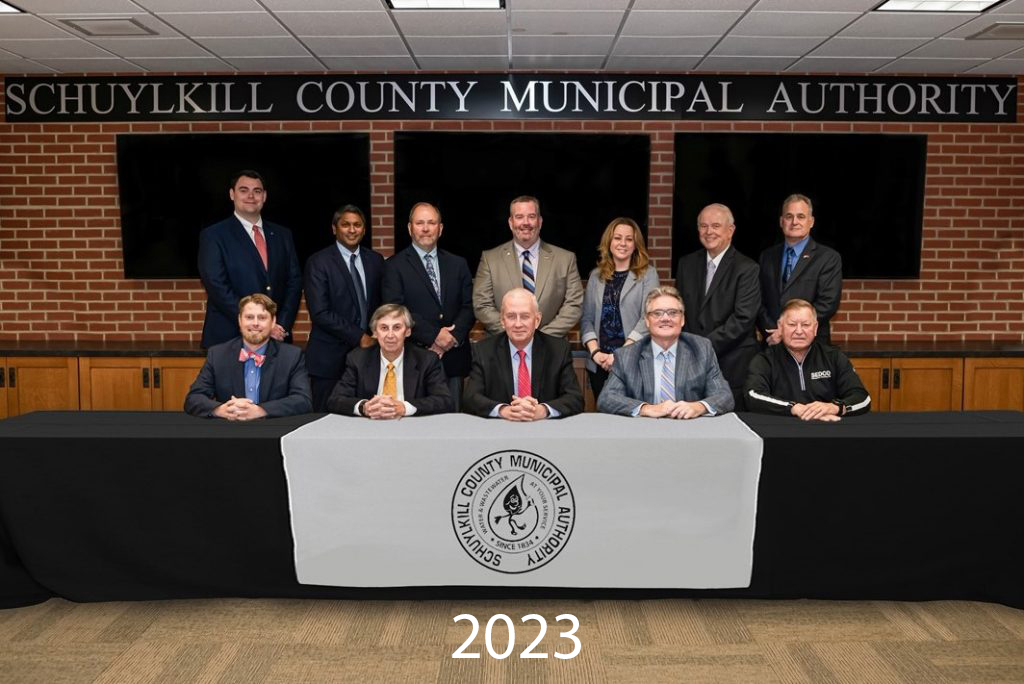 *Courtesy of the A.Farr Photography
SCMA Board of Directors and Management
Seated from L to R: Matthew A . Baran, Assistant Treasurer; C.E. Ned Connors, 1st Vice Chairman; Franklin K. Schoeneman, Chairman; John S. Boyer; Treasurer; Frank J. Zukas, 2nd Vice Chairman.
Standing L to R: Brock C. Stein, Assistant Secretary; Sudhir R. Patel, Esq., Solicitor; Howard D. Merrick, Jr., Secretary; Patrick M. Caulfield, P.E., Executive Director; Amy S. Batdorf, Assistant Director; Bob Allen, Consultant; Neal P. Goodman, Consultant.
Board Meetings
Public Meetings
The SCMA Board of Directors holds a monthly public meeting generally scheduled on the third Wednesday of each month at 10:00 A.M. at the Office of the Authority, 221 South Centre Street, Pottsville, Pennsylvania.
The following is the Schedule of Regular Meetings of the Board of the Schuylkill County Municipal Authority for the year 2023:
January 18, 2023
February 15, 2023
March 15, 2023
April 19, 2023
May 17, 2023
June 21, 2023
July 19, 2023
August 16, 2023
**September 13, 2023**
October 18, 2023
November 15, 2023
December 20, 2023
**Due to a conflict, the September 2023 meeting will be held on the 2nd Wednesday of the month instead of the 3rd Wednesday.**
Meeting Agenda
The Agenda for Regular Meetings of the Board of the Schuylkill County Municipal Authority is as follows:
Pledge of Allegiance
Roll Call
Public Comments
Consent Agenda

a. Minutes of the Previous Board Meeting

b. Treasurer's Report & Bills

c. Consulting Engineer's Report

d. Pension Committee Report

e. Operating Committee Report

f. Finance Committee Report

Executive Report
Committee Report
Solicitor's Comments
Unfinished Business
New Business
Consultant's Comments
Adjournment
To download a copy of the Agenda, please click here.