Fire Hydrant Flushing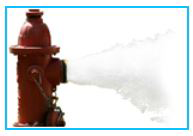 Hydrant Flushing Events 2023
Fire hydrant flushing is scheduled for the following areas of the Pottsville system starting at 7 pm each evening:
-Tuesday August 29th 2023 –
Intersection of Pottsville Street and Park Street
Intersection of Wolfe Street & East Arch Street
Affected customers may temporarily experience discolored water during these periods. We thank you in advance for your patience and cooperation. For more information about this notice, please call our office at 570-622-8240.